Participating in house chores to make your home clean and well maintained should be team effort. These are skills that are only taught at home and teach responsibility. However rich you are to afford cleaners around, equipping your children with these skills will help them navigate life. They will be able to value their environment, as well as stand out as people who clean after themselves even when they visit new places. Here are some ways through which you can equip your children to love and do house chores with ease, promoting team work.
Show by example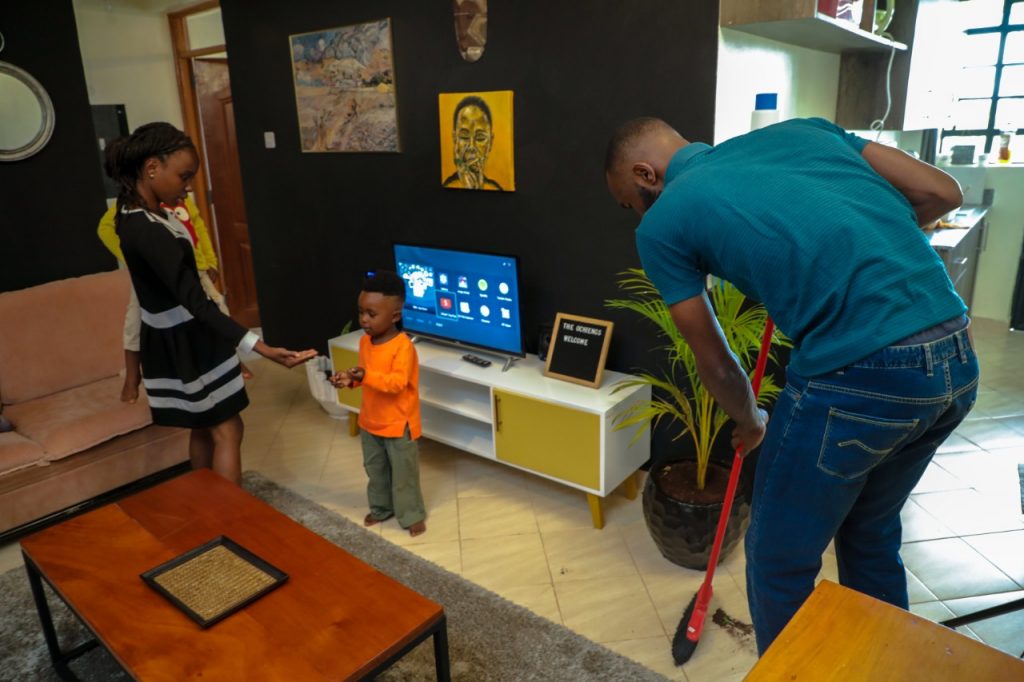 Children learn best through observation. As such, the best teacher is you. There was a time my mother used to keep on telling us to do a certain task which we constantly performed poorly at. Until she began to do it and teach us the ropes, we would still perform it the wrong way. You cannot expect your children to know how to dust the house if you have not taught them where to start from, which tool to use and easy techniques to do so. It starts with you.
INCASE YOU MISSED: SHOULD YOU DO HOUSE CHORES AS A MAN
Delegate manageable tasks
Once they learn how to do them, incorporate them in making a duty roster at home that is rotational. Each person must do certain tasks around the house, ensuring that no one feels like they have been accorded too much. Our home had my sisters and we rotated duties the whole week so I ended up learning all chores. It helped me appreciate all types of chores, even the ones that I did not particularly like.
Reward through affirmation or fulfilling their desires
Appreciate the effort your kids have put when they do house chores. It is a proper way of encouraging them as it is about giving them positive affirmation. For instance, say well-done often before you begin complaining that there are stains in a particular area. As a rule of the thumb, for every negative criticism you give your kids, give them seven praises on what they have done right. This way, someone will not feel demoralized and will want to try and do it better next time. You can also reward by fulfilling their desires. If they have been making their bed all week, they are entitled to something they have been raving about, maybe a sleep over. It helps children start understanding the concept of hard work pays.
READ ALSO: HOW TO TEACH YOUR KIDS ABOUT MONEY
Offer an allowance if you can
Allowances are monetary rewards given to your child to help in saving or teach them the value of money. Tying their allowances to house chores makes them see that they have to work to get some money and will be a motivating factor. They are not necessarily meant to be given all the time, as you do not want your children to stop valuing their home and instead only clean up for the money. Absolutely not. Instead, ensure that it is a once in a while thing, that is coupled with you teaching about money and building a saving culture in your kids.
Make it fun or competitive
I remember how my mother used to turn the radio on for us to dance on Saturday mornings during which it was general cleaning days. During these times, she allowed us to sing and dance as we did the chores. Well, it was fun and she got to know some of our favorite hits, and who among us danced best! As she made our activities fun, we had a lot of enjoyment and ease performing house chores. Up to date, I still like doing the dishes with some music on, which makes the activity so much more manageable.
Help your children cultivate responsibility by giving them these tasks, which they should do happily. Involve them, observe their progress and let them own their spaces. After all, the home is your first learning point of life. What a better way of instilling values than through such!