The bedroom. A room in a house where people sleep. Tell you what, this definition has totally changed today. The bedroom has become the one place where we go with our phones to catch up with trends and worse still, carry documents and continue working. Is it really helping that we have added on more duties to be performed in this room?
READ ALSO: BALANCING WORK AND FAMILY TIME AS A DAD
I met with Matt, a long time friend at a counselling session we had attended online for men. The reason why Matt had come for counselling was because his wife had left him, rather had run off a month ago citing reasons that their home was inhabitable from his workaholism. That she felt neglected, and all the time all he did was carry work home and specifically to the bedroom. Here was a confused guy, who thought he was doing his best providing and then was met with the worst.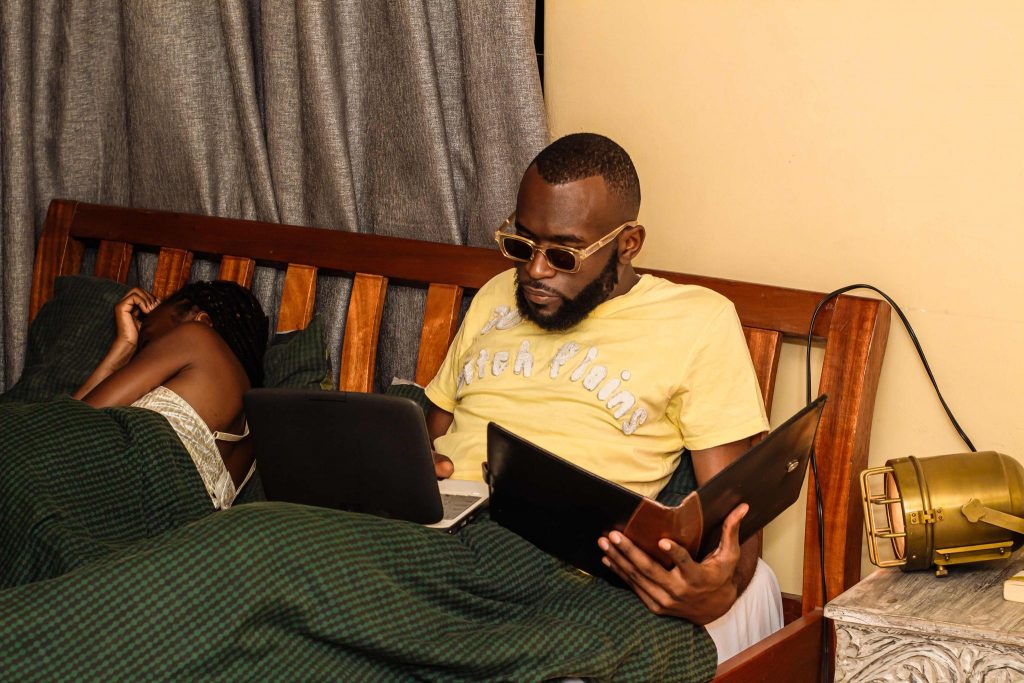 I too had gone for the same reason. Well, Rachel had not particularly run away yet, but it is a call from her dad that led me to go to the counselling. I would also carry work home and spend extra hours at the bedroom immediately after dinner working on projects. Her complaints were somewhat falling on deaf years until she requested her father, (who plays the role of my father figure) to talk to me about it. The old man called me to his home and gave me a story of how a similar issue affected his marriage as he climbed up the career ranks. This is what he told me, which I swear by to date.
Leave Your Work In The Office
Yes, you may be busy. Your boss has given you extra tasks or the ideas are streaming in at night. However, your boundaries have to be higher. Dad admitted that due to his high profile job, he would be a culprit of this and it was a bad concept. It limited his time with family as he concentrated more on the hustle than enjoying his homely environment. A decision to leave work at the office saved his life and has saved mine as when I get home, I switch to family time. It helps me with bonding with the kids and my wife, rather than the numbers. That can wait.
Invest In a Home Office Space If You Work From Home
The bedroom should be treated with all its sacredness, meaning that work documents are a no-no. To help with this, I had to set up a space that was mine and which I would awake to work at. It helps to switch someone's mind that it is time for bed, and that you should prioritize sleeping. Carrying work to your bedroom will also make your work pretty disorderly, which you can organize easily by setting up a home office space. Working from the bed also affects your posture, which you can correct by having a chair in your office. You also want to concentrate at work, and having your bed close by is always a remedy for making you sleep when you are meant to be working.
IN CASE YOU MISSED: CONFIDENCE BUILDING ACTIVITIES FOR YOUR BOY CHILD
Let The Bedroom Remain For Rest
I know working is at the core of our being, but from Matt's experience and mine, we almost lost our wives from being workaholics who bring work to the bedroom. Today, Matt is happier and his wife returned, right after he promised that he would invest in a home office and try to leave work there.
Have Clear Work Boundaries On When To Pick Calls And Answer Emails
This is a point that my father in law really insisted upon. Having had my intimacy greatly affected by my phone and laptop use, he knew too well how bad it can be when you fail to put up some boundaries. Unless it is an emergency, avoid picking unnecessary calls or constantly responding to things you can the following day. Much as the money chase is a 24hr thing, a balance is key. Too much of everything is possible.
It is easier said than done, but you have to try to balance. All the best sirs!